Not Nordic Noir, but British Bright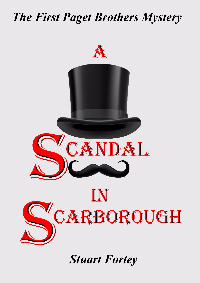 Enjoy a tale about a holiday that turns into a murder investigation!
In the hot summer of 1899, brothers Sidney and Walter Paget, illustrators of the Sherlock Holmes stories, are holidaying in the Yorkshire resort of Scarborough when they discover the body of a naked man with a knife thrust deep into his ribs. As they are drawn into the case, murder follows upon murder, disappearance upon disappearance, until they can no longer be certain who is who or what is what. Inspector Brasher of Scotland Yard is called in to unravel the mystery and the brothers soon fall under suspicion. Can the spirit of Sherlock Holmes come to their rescue?
The two main characters, who eventually solve the case, are Sidney and Walter Paget. Sidney is the older brother: sensible, steady and eager to curb the excesses and enthusiasms of Walter, his younger brother, who is headstrong and erratic. They are in constant competition as to which of them is more intelligent and more artistic.
Inspector Brasher is another character who will recur in future stories. He is slow, thoughtful and finicky. The brothers cannot make up their minds whether he is a good detective or a fraud.
Sidney and Walter Paget are based on real people of the same name. Sidney Paget illustrated the early Sherlock Holmes stories in the Strand magazine. The commission for these illustrations was intended for Walter, but due to a mix-up Sidney got the job. (So far, so true to real life. What follows is my own take on the relationship.) This mix-up has rankled with Walter ever since, and every now and then – whether out of pique or some mental disturbance – he dons a deerstalker and 'becomes' Sherlock Holmes. To make matters worse, Sidney bases his drawings of Holmes on sketches he makes of Walter. (As in real life, Walter does eventually get to illustrate one Holmes story, but that is still far in the future.)
Inspector Brasher is a complete invention.
As the title indicates, the novel is set in Scarborough. I chose Scarborough because it is a place I know and like. My wife and I spent our wedding day there, and we have been back many times since. I also wanted to write a crime novel set in blazing sunshine, as a counterbalance to Nordic Noir – a sort of British Bright.
Although the events are all invented, a painting of Scarborough Spa that appears in the book – in which the artist painted in the faces of people who paid for the privilege – is based on exactly such a painting hanging in Scarborough Town Hall.
A fair amount of research was needed to ensure accuracy of historical detail. I consulted guide books for 1900, which revealed that some tourist attractions, such as the Revolving Tower and the People's Palace and Aquarium, are no longer in existence. These attractions duly appear in the book.
I also went to Scarborough and took a number of photographs upon which to base my descriptions of streets and buildings.
This book is intended to be the First Paget Brothers Mystery. The second, which is in preparation, is called Sapphires in the Night, and takes place in London's theatreland in 1900.