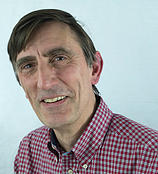 Detective novels are my preferred form of fiction. I started reading the Sherlock Holmes stories at an early age, and started writing them whenever I had to write a story at school.
I've been writing properly for over twenty years. I'm first and foremost a playwright, with a number of professional productions to my credit. My biggest success has been Holmes & Watson: The Farewell Tour, which has so far clocked up over 150 performances, touring to venues in England and Scotland. My play A House by the Sea was performed at BAC in London in 1994 and broadcast on Radio 4 in 1997, starring Ciaran Hinds, Kate Buffery, Helena Bonham Carter and Julian Rhind-Tutt. A Scandal in Scarborough is my first novel. My second is The Diva in the Duck Pond. Both are available via Amazon or Lulu.com.
I live in Leeds. After taking an MA in drama at Leeds University in 1978, I went to Germany, where I spent several years teaching, directing and acting. I then returned to Leeds with my future wife, who is German.
As well as writing, I have worked as teacher, translator, lexicographer and editor. Currently I work part-time at Leeds University Library.
There was a feature on me in the Scarborough Evening News of Wednesday 10 June 1998, when a lunchtime play of mine, Memories Are Made of This, was being performed at the Stephen Joseph Theatre in Scarborough. I have had two lunchtime plays produced there. The second was The Kaiser and I, about an English dancing mistress and a German soldier in 1914.
Stuart is a member of Script Yorkshire
Email Stuart here:
stuartfortey@pnwriter.org